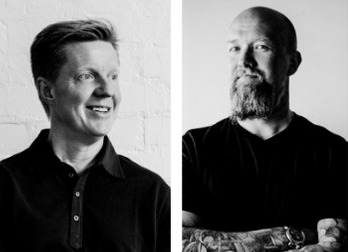 CEO Olli Suominen and Creative Director Tuomas Summanen To Become Major Shareholders of Rabbit Films
Posted on 09.06.2021 by Elina Kangas
The Dudesons, the founders of the company, to stay on as minority owners.
Olli Suominen, CEO and Tuomas Summanen, Creative Director of leading independent Finnish production company Rabbit Films have led a partial management buy-out from its founders, becoming major shareholders. Founding partners Jarno Laasala, Jukka Hildén, Jarppi Leppälä and HP Parviainen will stay on board as shareholders. 
Rabbit Films, which recently announced Mobile 1.0, a major international drama series on the rise and fall of Nokia, will continue producing high quality content as a fully independent production company. 
"Suominen and Summanen have together successfully led Rabbit Films for several years, and now is the perfect time to secure the company's growth strategy by further increasing their ownership," said the company's founder, Jarno Laasala. 
"My motivation to develop the best content for the Finnish and international markets is now even stronger. I'm happy that Rabbit is continuing on its chosen path: to have the best people make programmes that others aren't doing," added Tuomas Summanen. 
"Rabbit Films is by far Finland's most exciting production company, and I'm extremely proud to be able to continue growing the company towards international success also now as an owner," commented Olli Suominen. 
Rabbit Films is one of Finland's largest production companies. It was founded in 2001 by the stunts and pranks crew The Dudesons, who continue to be owners of the company today. Rabbit has made its name in producing non-scripted entertainment shows but has in recent years expanded to scripted drama series and films. Most of Rabbit's productions are self-developed, such as Over the Atlantic, Posse and City Vs Country, but the company also produces local versions of international formats like Who Wants to Be a Millionaire, Shark Tank and Saturday Night Live. The company's recently moved into large-scale scripted productions with Summer of Sorrow for Elisa and Mobile 1.0 – The Story of Nokia for MTV3/C More. Rabbit distributes its self-developed content internationally.
Media contact: Mark Ogle, OH Communications
mark@ohcommunications.co.uk / +44 (0) 7789 981 561
Further Information: Olli Suominen, CEO
Olli.Suominen@rabbitfilms.com / +358 44 582 6095
Interview Requests: Elina Kangas, Executive Assistant
Elina.Kangas@rabbitfilms.com / +358 44 060 2820